EL DORADO BOOKS USA is proud to announce:
Caravan to Oz – a family reinvents itself off-off-Broadway is a memoir of the Harris family's artistic and personal journey. Their story begins on the cusp of America's explosive social, cultural and artistic revolution of the 1960s and culminates with the impact and aftermath of the attack on the World Trade Towers on September 11, 2001.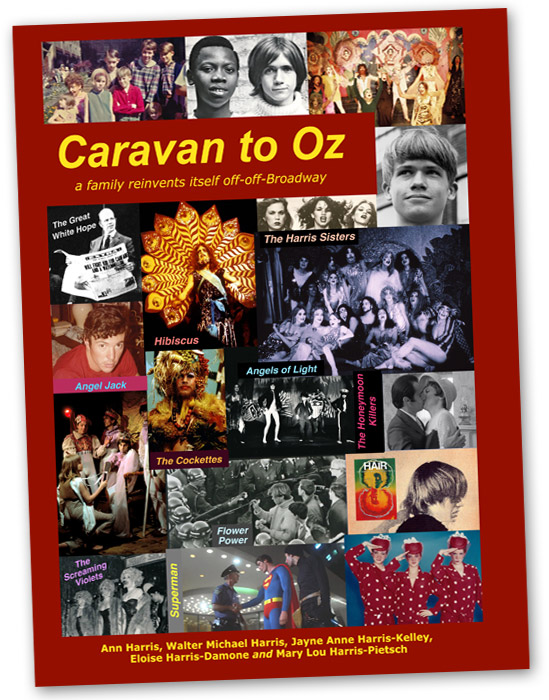 In the mid-1960s, George and Ann Harris and their six children brought their unique brand of original musical theater from their Florida garage to the coffee house stages of Manhattan where they collaborated with future Pulitzer Prize winning playwrights, revolutionary directors and stars of today at the beginning of their careers including Bette Midler, James Earl Jones, Diane Keaton, Tim Robbins, and many others. Within a few years of leaving Florida the Harrises were working actors on Broadway (HAIR and The Great White Hope), on television and radio and in films.
The family's charismatic oldest child, George III, a.k.a. Hibiscus, founded The Cockettes and Angels of Light performance art troupes in San Francisco and New York. His shows were magical, musical gender-bending glittering extravaganzas with a streak of social satire. His parents and siblings were creative partners at every level. The lasting impact of Hibiscus' artistry remains relevant now, 30 years after his passing, and is studied by scholars, analyzed by journalists and celebrated in films, books and museum exhibits.
The book is narrated by members of the family with special guests, and is introduced by the Oscar-winning actor, director and screenwriter, Tim Robbins.
The Harris family proved that it's possible to simultaneously follow one's dreams, raise a family and come out more or less whole. El Dorado Books believes that Caravan to Oz has something to offer anyone at the beginning of their own journey. For more on this enchanting memoir, click on "Order the Book" above!