by Walter Michael Harris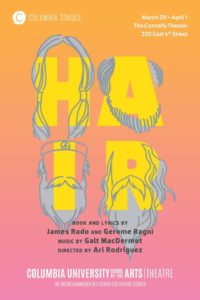 Last night my sisters, Eloise Harris-Damone and Mary Lou Harris-Pietsch, opened in a new concept production of the musical 'HAIR', directed by Ari Rodriguez and presented by Columbia Stages at the Connelly Theater, 220 E. 4th Street in Manhattan. Here's a mini-review by our friend, Jackie Rudin, who also took the photos below this post:
Jackie:
"Went to opening night for this glorious new production of HAIR at The Connelly Theater staring, among others, my dear friends Mary Lou Harris and Eloise Harris-Damone, sisters of my old friend Hibiscus (entertainer)!
Went with Fussy Lo Mein, Fannie Mae B. Free, Hucklefaery Ken, Sasha Silverstein, Jamie Leo and Alan Sabal and what a treat to run into Jim Rado, co- writer of the original production of HAIR and theater luminaries Robert Heide and John Gilman from Cafe Cino days.
As we celebrate the 50th Anniversary of HAIR is was quite poignant to have a cast mostly made up of actors in their 50's 60's and 70's, who were around for the original HAIR debut in 1967, beautifully giving it their all!
The show put on by The Columbia University School of the Arts under the leadership of Anne Bogart is almost sold out but get a ticket if you can! Bravo to Mary Lou, Eloise and all! You certainly deserved the standing ovation!
Photos above by Jackie Rudin.
And here's some background on HAIR from our good friend Jim Gossage, off-off-Broadway's premier photographer:
"Hair: A Tribal Love-Rock Musical" is connected very strongly to Cafe La MaMa. In April, 1966 Co-author Gerome Ragni was Clown 1 in an Open Theater production, "The Clown Play", a scene by Bertolt Brecht. Clown 2, Joyce Aaron Funk, a year earlier joined Ragni and his "Hair" co-author James Rado in the Chicago production of Ann Jellicoe's "The Knack" where the two authors worked on the "Hair" script.
Joseph Papp was preparing the opening of his new Public Theater space when Gerome Ragni and James Rado brought him their play. Eventually Papp decided to use "Hair" as his inaugural production at the Anspacher Theater and Ellen Stewart invited him to use Cafe La MaMa on Second Avenue for production of the replaced play "Stock Up On Pepper Cause Turkey's Going To War" (February, 1967) by Frank Zajac. Joseph Papp brought in his portable stage and he set it up on the floor of Cafe La MaMa. I think this was the first production at Cafe La MaMa without the service counter. The traveling stage took up too much space.
"Hair" anniversary celebrations have occurred at La MaMa Experimental Theater including the fiftieth only a couple months ago.
With Tom O'Horgan directing, the original Broadway cast included La MaMa people Walter Michael Harris, Jonathan Kramer, Marjorie LiPari with Seth Allen as a standby for Claude (James Rado's character). Later, Tom Eyen cast Leata Galloway, an original cast member as Nefertiti in his 1973 production at La MaMa Experimental Theater Club on East Fourth Street.
And a new production will include more La MaMa alumni, Michael Harris' sisters who enjoyed success in their own La MaMa productions, including "Cheek To Cheek" and "Hibiscus" (directed by Jacque Lynn Colton, written and originally produced by Walter Michael Harris at Pilgrim Center For The Arts in Seattle). Jayne Anne Harris is recovering from an injury but her sisters, Mary Lou Harris and Eloise Harris-Damone are cast members in a production that is part of a Masters thesis at Columbia University with performances beginning this Wednesday, March 29 at Connelly, 220 East Fourth Street. http://arts.columbia.edu/events/spring-2017/hair