By: Jayne Anne Harris, Mary Lou Harris, Eloise Harris-Damone, Calliope Nicholas and Oboe Bourgeois
The coat check girls of Studio 54 came from all walks of life and found themselves in the epicenter of a high-voltage whirlwind! In the dirty, gritty impoverished New York City of the 1970s rose a glittering, ultra-hip, fabulous utopia that celebrated its citizens yearning for bright lights, glamour, power and fame. The owners and managers picked each coat check girl for their beauty, youth, energy and style. Velvet ropes were opening up all over New York City to the girls who worked at the most exclusive nightclub on the planet … Studio 54! The coat check girls not only survived the temple of excess, they thrived. Some went on to college, met the loves of their lives, bought real estate, created careers and families, and built happy futures.
The Harris Sisters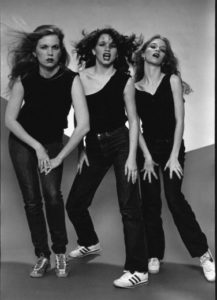 Jayne Anne Harris, Eloise Harris-Damone and Mary Lou Harris came from a large New York City theater family who, collectively and individually, encompassed theater, music, film, broadcast media and performance art. They literally spent their entire childhood off-off-Broadway in New York's experimental theater movement; performing in their brother Hibiscus' glittering theater troupe, The Angels of Light, and with his rock n' roll group, Hibiscus and the Screaming Violets. Studio 54 became a new and refreshing scene for the Harris sisters. It was a playground for the rich, famous, fabulous, the notorious and the beautiful. Studio 54 encouraged them to feel their own jet-setting oats and to spread their wings. For the first time, they were mature enough to enjoy freedom and had money to burn.
(left to right: Jayne Anne Harris, Eloise Harris-Damone, Mary Lou Harris – photo: Dean Janoff)
Studio 54 offered weekly "Tea Dances" jam-packed with fun, gorgeous gay boys there to dance the night away. The coatroom was filled to the brim with identical leather motorcycle jackets. Front to back, they lined the coatroom like wallpaper. Euphoric boys would ultimately lose their coat check ticket and then saunter up to the counter with their dilemma. The coat check girls would say very officially, "Can you identify anything in your pockets?" The answer was always the same, "Poppers and Pot!" As the girls scanned the coat racks, they were swept into a confusing sea of "searching for the right coat" possibilities. Along with this problem came the frequent pungent popper spill that created a leather popper steam room. The vapor sent the now kaleidoscope-eyed coat check girls four feet off the ground for the rest of the night.
Working at Studio 54 saved them from the downward spiral of the era in New York City. So much went on, so many drugs, so much alcohol, so much money and so little sleep that you really had no choice but to fall from grace, either temporarily or sadly permanently, or become sober. It was before the devastating wide spread of AIDS. People freely shared what drugs they had. The liquor flowed, the music was loud and happy, the people were beautiful and the night never seemed to end. A grand plus for the Harris sisters was the flexible schedule that working in the coat check provided, as they were all working actors and music artists. The sisters would often finish their shift and go straight to a movie set or music studio. Studio 54 provided a new performance venue for The Harris Sister's singing trio and gave them all-access passes to concerts by emerging stars like Duran Duran, Culture Club and Madonna. Celebrities used the coatroom to take a break from the crowds. The hours were grueling and the work was extremely physical. Looking back, the Harris sisters are not sure how they did it.
When A-list party promoter Robert Isabell, and Studio 54's head of security, Chuck Garelick, asked the sisters to run coat checks at their major events, Coat Check Inc. was born. The Harris sisters became entrepreneurs and executives overnight, working prestigious parties in Manhattan. Their new enterprise was given a nod in Business Week and Crain's Magazine. Their client list included top brands including Cartier, Victoria's Secret, Bloomberg LP, American Express, the American Museum of Natural History, The Bronx Zoo, Robert Isabell, George Trescher, Sotheby's, The Costume Ball at the Metropolitan Museum of Art, Phillips Auction House, Today's Man, Municipal Arts Society, Sports Illustrated, The New Yorker and MTV. This new adventure enabled the sisters to get out of grueling round-the-clock shifts at Studio 54 and allowed them to become daytime people with regular schedules. Their employees were actors and entertainers who needed flexible shifts to accommodate their unpredictable audition and performance schedules. The Harris sisters were joyfully surprised at the mammoth scale of their new business.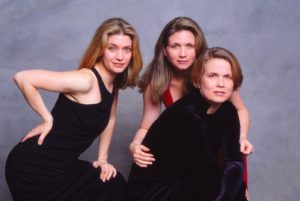 During their lifetime in theater, music, art and working at Studio 54, the Harris sisters were eyewitnesses to many of the great artistic revolutions, movements, revolutionaries and pioneers of the 20th century. They learned first hand that there are magical, magnetic people in this world who leave an indelible mark on those they meet. Jayne Anne, Eloise and Mary Lou thank all of the owners, Ian Schrager, Steve Rubell and Mark & Alan Fleischmann and the staff of Studio 54 for taking them on the adventure of a lifetime.
(left to right: Mary Lou Harris, Eloise Harris-Damone Right: Jayne Anne – photo: Michael Ian)
Over the years, surviving members of Studio 54 have become a family. Once the AIDS virus was finally diagnosable, the Harris sisters realized how hard their Studio 54 family had been hit … and the knock-out punch of their own brother, Hibiscus, who died in 1982 of the deadly virus. Jayne Anne Harris, Eloise Harris-Damone and Mary Lou Harris cherish the Studio 54 reunions, films, Sirus XM radio show and group updates through social media.
The Harris Sisters are co-authors of two books: Caravan to Oz– a family reinvents itself off-off-Broadway (2014), and Flower Power Man (2017), a biography of their late brother, George Harris III, aka Hibiscus. They live with their families in Manhattan and upstate New York.
Calliope Nicholas recalls her years as one of the coat check femmes at Studio 54.
(left: Calliope Nicholas, right: Lisa Wright – photo: Richard Manning)
I had a recurring fantasy about Studio 54, usually during the nightly bike ride to the club. The fantasy was, when gliding around the corner of Broadway & 54th, there would be a huge crater where Studio had been standing. That God, who'd been working undercover all this time, finally had enough of its nonsense & exposed himself long enough to blast Studio out of existence.
Studio was the world's epicenter of all things wildly decadent during those disco years from '77 to '82. Steve and Ian set out to create precedents in the nightclub world including lavish, over-the-top parties that attracted the rich & famous. And they did it in an environment where VIP's could lose themselves in the glittering lights & pounding music among a thousand other chosen people. Everyone who was anyone was there to play: Andy Warhol, Elizabeth Taylor, Mick Jagger, Cher, princes of faraway countries & heads of state.
As a naive twenty-one-year old, I took great pleasure in witnessing these icons of culture immersed in their pleasures. As an employee who worked there for seven years, the scenes became a normal reality of nights on the job. Our job as the coat check femmes was to arrive at 9 PM, set up tickets on hangers & psyche ourselves for the night ahead. The doors opened at 10PM with a sea of celebrities & wannabe's clamoring to get in. Studio was the first to create a mystique of opening its portal only to those who got a nod from Steve. As a result, the air was charged with anticipation along with an underlying pulse of hysteria. This was part of the appeal of Studio & Steve relished his undeniable power as lord of the club. In an effort to get Steve's attention, people dressed in outrageous outfits, ranging from couture to furs, to intricate sequined outfits with feathers & some only wearing G-strings. One of my favorite VIP's for eye candy was Grace Jones. Her favorite ploy was to strut in completely naked on stiletto heels, her buffed mahogany body glistening in the neon lights. It soon became a joke among the employees that Grace had only one outfit in her wardrobe.
Night after night the norm at work was a world of sensory overabundance, filled with splendid creatures & a sense we'd all stepped into a rabbit hole. Those sensations were heightened by the thumping percussion of disco music & a throbbing base that vibrated through our bodies in rhythm to the tangle of limbs moving on the dance floor. And through it all the coat check femmes hung all the accoutrements & played cool. We saw all of it & dug most of it. Throughout the night, we'd step out from the behind the counter, explore the scenes at play, then come back to gossip. We gave each other special names as part of elite members of the 'Studio scrod squad' and over the years became involved in each other's lives.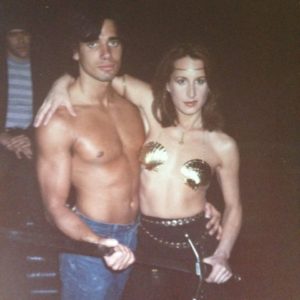 Walking up from the basement one night to check on the back coat check femmes, I came across Bianca Jagger, lying on the stairs in a bit of a drug-induced stupor. As beautiful as a thoroughbred, she was in a satiny, swirling, creamy gown spread out over the stairway, blocking me from continuing up without stepping on it. Standing above Bianca was her guard, a blond Nordic god in a tuxedo made for fabulous creatures like him. I stopped and stared, not sure what to do. Bianca raised her hand with an elegant wave said, "Dahling, go ahead, step on my dress, it's fine, I don't care." I daintily stepped up, leaving a dusty toeprint on a bit of satin, past the scowling Nordic & up into the cacophony of disco music & the bright blinking lights. The rabbit hole was indeed open. (left: George Alvarez, right: Calliope Nicholas – photo: Courtesy of Calliope Nicholas.
After Studio 54, Calliope Nicholas worked at Pierros Bar in Mykonos, then back in the States started one of the first day spas in NYC in the mid '80's, New Life Health & Spa, featured in magazines such as Vogue & Elle. She lives in upstate New York, having raised a family there & now works as the Managing Director of Millay Colony for the Arts, an international artist colony that serves writers, artists and composers. Calliope is also Managing Director of FilmColumbia, which has grown into a ten-day international film festival, featuring award-winning films & documentaries.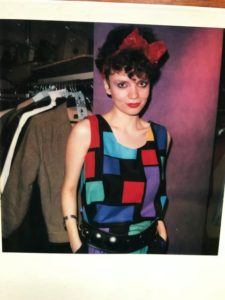 Oboe Bourgeois in the coatroom at Studio 54.
(photo: Courtesy of Oboe Bourgeois)
One evening I was working the auxiliary coat check by the dance floor, the one where rolling racks were set up in a hallway. Andy Warhol dropped two Polaroids on my counter. Puzzled I picked them up to look at them. He retrieved them from my hands and proceeded to give me his coat check ticket. Neither one of us said a word to one another. Studio 54 coat check girls are cool like celebrities!
On the opposite side of the dance floor for the other auxiliary coat check I remember spending many exhilarating and dazzling evenings observing the hedonistic behavior of the dancers on the dance floor. Some dancers were doing more than dancing!!! One evening for a private party Brooke Shields checked a Barbie doll size doll of herself. Probably the older gentlemen had given it to her. I thought that was cool!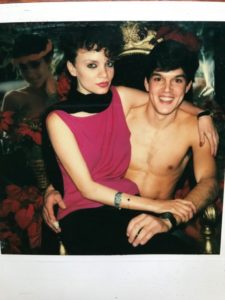 Another evening I was attending a private party behind the backdrop on the dance floor, which separated the attending guests from the clientele. On one banquette was Christy Brinkley with her boyfriend Oliver Chandon and I was on the banquette next to them. The festivities were to celebrate a birthday and they were smashing birthday cake into each other's faces.
(left: Oboe Bourgeois right: Bartender, John Bello – photo: Courtesy of Oboe Bourgeois)
I was ready to work the auxiliary coat check in the hallway for the private wrap party for Coppola's film One From the Heart with Natasha Kinski. I'm a big fan of hers! I was obsessed with her film Tess. I ran into her and shyly just said hello. There were tables with food set up on the dance floor and cocky me went mmm no one is around so I think I'll help myself to some food, alas, I was busted by the club manager, who tells me you can take the night off! I was upset, of course because I wanted to make money. SO, I called this cute French boy I knew and had him put on the guest list. He was thrilled! We partied and had a great time getting free drinks, of course. I saw the club manager later that evening, all drunk and was like…Hi!!! He didn't say a word. He had said, Take the night off, not go home. Of course I took that cute French boy home!
I am a native New Orleanian. The magical city of New Orleans has contributed to shaping the person that I am. I worked at Studio 54 for 4 years alongside some amazing young women who have become lifelong friends. Before I moved to New York I lived in San Francisco and was involved in the Punk Rock scene. Preceding working at Studio 54, I worked at Bond's International Casino as a coat check girl and thereafter, I worked at The Palladium, managing the coat check room. I am currently living in my beloved city of New Orleans and I teach Pilates.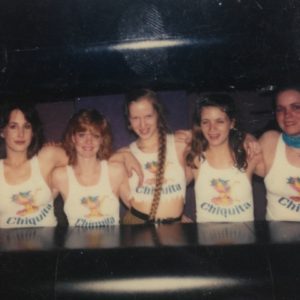 There are many more Coat Check girls of Studio 54 to honor including families that worked side by side: The Wright sisters: Lisa and Holly; The Lange sisters: Julie, Nancy and Patty; The Burke sisters: Martha, Hilary, Agnes and Noelle and other fabulous femmes: Angel, Getchie, Ronnie and Danielle to name a few.
They shared a spectacular historical New York story. The emergence of style and relational conduct within the arts, fashion, hotels, club operations, restaurants, the world of celebrities, fans and so much more, certainly have origins from the stunning success of Studio 54! Yet, The greatest gift of all is their continued close-knit friendships that were created during those treasured golden years as The Coat Check Girls of the fabulous …. Studio 54!
(left to right: Calliope Nicholas, Julie Lange, Lisa Wright, Eloise Harris-Damone, Jayne Anne Harris – Photo: Courtesy of Calliope Nicholas)