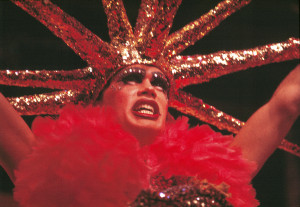 Hibiscus aka George Harris III in "Femme Fatale -The Shocking Pink Life of Jayne Champagne" Photo by Dan Nicoletta c 1976
Talented photographer and friend Dan Nicoletta had this to say about "Caravan to Oz"
3 of 3 people found the following review helpful
Caravan To Oz – an essential text on theatre history and LGBT history….
,November 8, 2014
This review is from: Caravan to Oz: A family reinvents itself off-off-Broadway (Paperback)
This is a treasure trove of theatre and LGBT history. The legendary Harris Family are a significant vessel for understanding the turbulent social changes of the seminal off off broadway era as well as the west coast independent theatre and film and music scenes of the 60's through the 80's. But until now, so much about the family had remained a mystery. Those of us in the know and who appreciated the gravity of their legacy longed for a more in depth remembrance of what actually did occur and who the players were in this legendary family that swirled in and around LaMama Theatre and Cafe Cino and Hibiscus who co-founded the Cockettes as well as The Angels of Light theatre companies. (west and east coast troupes)… and now thankfully we have a definitive primary source text that is lovingly and brilliantly crafted collectively by the surviving family members. The book is chock full of meticulous archival material for the history geek in all of us, but is also a heart wrenching personal remembrance as the latter day Harris's collectively excavate their whirlwind lives. The book and the family are GOLDEN… a joy to read… tons of amazing pictures… I am completely ferklempt about this one… been waiting a long time for something like this to come along…. Hibiscus was always so sweet to me the few times we met… no wonder… his family is lovely to get to know a little through their wonderful memoir….