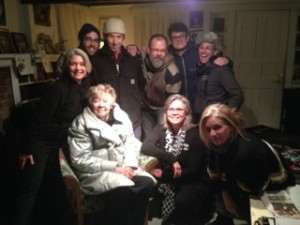 Ann, Jayne Anne, Eloise and Mary Lou Harris were interviewed on camera recently by Academy Award-nominated documentary filmmaker David France and his amazing crew. France and company traveled to the family's Catskill Mountain home to capture the interviews. 
His film, Sylvia & Marsha (working title), documents the life and times of transsexual rights pioneers, Sylvia Rivera and Marsha P. Johnson. The Harris family members are big fans of David France and his previous film, How to Survive a Plague. David's films tell stories about unsung heroes who changed the world – for all of us and for the better. A big thank you goes to Mark Blane, an associate producer at Public Square Films, for pre-interviewing the family and for creating such a relaxed, yet professional setting. 
Sylvia & Marsha, still in production, will be edited this spring.