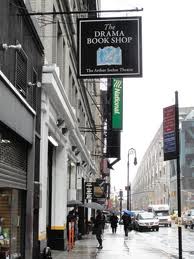 Our show-biz family memoir, Caravan to Oz: A family reinvents itself off-off-Broadway is now offered at The Drama Book Shop in NYC:  
The DRAMA BOOK SHOP, Inc.
250 West 40th Street – between 7th & 8th Avenue
Tel: 212 944-0595
STORE HOURS (GMT-5)
Monday—Saturday: 11:00 a.m. to 7:00 p.m.
Thursdays until 8:00 p.m.
Sundays noon until 6:00
Caravan to Oz is narrated by family members and guests including Oscar-winning actor/director Tim Robbins, theater producers Ellen Stewart, Crystal Field and Ritsaert ten Cate, playwrights Robert Patrick and Robert Heide, filmmakers Scott Morris and Mike Figgis, and educator John Bernhardt. It's not easy raising six kids in the arts. But the outlier Harrises answer every challenge on their personal yellow brick road with courage and commitment. Their pioneering journey offers something to anyone who is driven by a dream.